30/01/11
Pennine Bridleway Relay
- from John Tollitt (photos from John)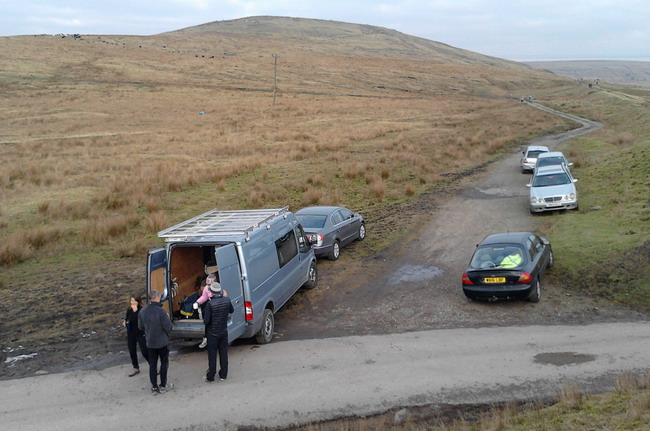 A furtive early morning rendezvous, which had the curtains of East Denton twitching, marked the inaugural NFR attempt at the Pennine Bridleway Relay; a 47 mile circuit of the Mary Towneley Loop in the South Pennines. This is an annual event, carried out over 5 legs in pairs, attracting over 100 teams.Safely ensconced in Dave Gunning's van we set off bleary eyed, not quite knowing what to expect, clutching reams of complex instructions drawn up by Commander Horsley.

Following our directions to the letter, we all felt slight pangs of guilt, bundling Steph Scott and Katherine Davis out of the van into the icy cold to face a 4 hour wait in somewhere, I swear, was used as a location for The League of Gentlemen, and which showed no evidence of hosting any kind of running event. Although tempted to find shelter in the House of the Lord, they opted to stash their bags in a bush and wander a mile or so down the road and take refreshment and shelter in the more cosmopolitan environs of Littleborough.

Peter Hayle and myself were next to be bundled out of the van at our changeover point. We found the registration point and were the first to register and have our kit checked. Having a few hours to kill, we retired to a cafe in a flea market in Hebden Bridge, where we were entertained by updates on Andy Murrays' Aussie Open demise from the woman with the tranny (that's an old term for a radio, for the benefit of some of our younger readers). This left Dave and Paul Appleby with a bit of a mad dash to get to their changeover point just in time to receive the electronic dibber from Jack Walton and George Nicholson. They had started off on the 8.5 mile opening leg at 8.30am having stopped over the previous night wisely opting to forgo the full English Breakfast at Mrs Miggin's Guesthouse.

Jack and George put in a good shift although George professed to not being an early morning runner. Adhering to Will's cunning plan, car keys were exchanged and Jack and George drove Dave's van back to the start to then pick up their own car and drive to the second changeover. Dave and Paul had a good leg, gaining 21 places on what was the longest and toughest leg, before handing over to Peter and myself for Leg 3. Leg 3 was the the leg with the most ascent, and, with what was described, as 'a sting in the tail'. Starting with a hairpin ascent, the valley soon opened up, giving panoramic views, levelling off to give a good, long sweeping descent below the the towering Stoodley Pike monument. After a few up and downs, our final destination soon became apparent as we dropped down to cross the Rochdale canal and follow the signposted 1 1/2 miles to the changeover. What the signs omitted was that it was 1 1/2 miles of very steep ascent (aah. the sting in the tail!). We then handed over to Steph and Katherine and were pleased to see Paul and Dave offering hot tea and our kit that they had retreived from under a van at our start point. Piling back into the van we navigated our way to to the final changeover point (navigation being trickier on road than on foot) and made our way up the narrow track to the changeover. At this point mobile phones started ringing as Steph and Katherine wanted to know where Jamie Wilkinson and Duncan Scott were? They certainly weren't in the van (as they had made their own way to the event despite Duncan having had a gastric encounter with some dodgy fish on Friday night). Messrs. Tollitt and Appleby desperately attempted to don some form of acceptable running gear and sprinted to the changeover where we were relieved to see Duncan and Jamie pinning numbers to purple and green vests and accepting the dibber. Panic over we all piled back into the van and made our way to the start/finish point where tea, coffee and suspect pies were available. We assembled at the finish line (Jack and George had already left by then) to cheer home our final leg pairing. Duncan finishing Zola Budd style clutching a pair of blister inducing Mudclaws. All that was left was to transfer Jamie and Duncan to their car and head for home.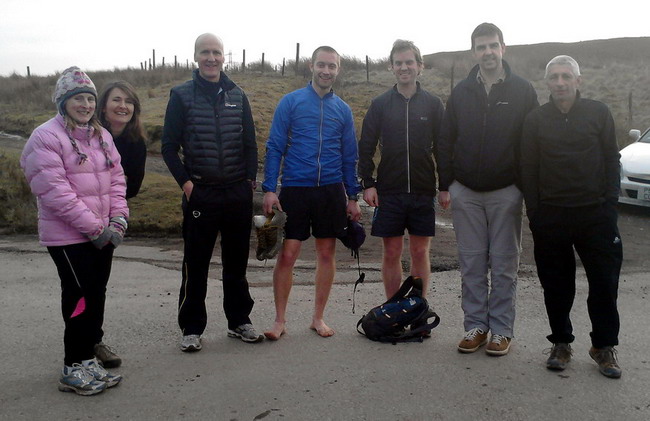 Steph, Katherine, Dave, Duncan, Jamie, Peter and John
All in all it was a great day. We finished 60th out of a hundred or so teams despite early starts, lack of local knowledge/recces, blisters and dodgy fish. I would definitely recommend giving it another shot next year having learnt from our experience this time. A big shout out to the Man with the Van, Dave, for doing a stirling job getting everyone to and from the various locations and to Will for organising eveything.
more photos from John
John Tollitt
results and more info on the Pennine Bridleway Relay website
photos at SportSunday event photography